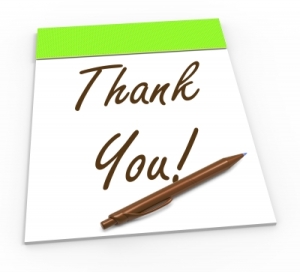 Majority consensus on this question is No!
Major reasons include its time-consuming for the business/owner to do individually, especially if the article was re-tweeted thousands of times, which frequently happens with my most active clients!
Secondly, it clogs up feeds with unimportant information. Some users send private messages to say thanks and most Twitter users view that as spam.
Tip: A quick way to say thanks without saying thanks is to "favorite" their re-tweet of your message.
For the most part, it's not necessary to say thanks for likes and re-tweets.  It is much different if they engage you specifically with a question, a problem or a compliment- that blog to be posted later.
Should you choose to respond to those who liked or re-tweeted your posting make sure it's valuable for the reader.
Reminder about Twitter: it's a micro form of communication, and since there are millions of accounts there are billions of tweets and re-tweets, your communication on twitter should create value for the readers. If not watch your followers disappear.
Here are 2 ways information acquired from re-tweets can be used to your advantage.
1.  Return the Favor!
The basics of how to use Twitter from way back still holds true today, and that is to Return the favor! Follow the companies or people who re-tweeted your post, but look at their profile first to see if it provides quality material for you or your business. If it does, follow them, if not move on. If their tweets are exceptional, the best way to thank someone is to re-tweet the posts you like.
Following people, who follow you on Twitter provides fresh content from their feeds that may help your business. A business learns more about what people are reading, what are their interests, what other businesses in the industry are doing and if they could be a potential client.
2.  Review the re-tweeted posts.
Should any of the re-tweeters or followers continuously re-tweet your articles, review the re-tweeted posts. Reviewing these details can pinpoint valuable intel.  Businesses learn whether the re-tweeter could be a potential client or an advocate and learns which postings are the most popular helping the business to focus on writing similar posts- gaining even more traffic, leading to sales.
Taking personal communication with a potential client a bit further, contact them privately with a blog link or a tweet that follows their interests, they may not have seen yet. I wouldn't do this all the time just on special occasions, showing you value their re-tweeting efforts.
Twitter interactions are valuable so keep track of them and review often to make changes to your marketing strategy.
If you have any questions about Twitter or other types of marketing, please call our office at 720-933-8117 or Email Us
Related Blog Posts